I have been living in Houston for almost 7 years and have visited many Thai places but I have never heard about this place before. One day, I was browsing the deals on Groupon, and found this place in Midtown area. Since the place is pretty close to my workplace, I invited my co-workers to join. When we passed the restaurant, one of my co-worker changed his mind because of the restaurant is next to the gas station and he was afraid that the food is going to be bad. We went to different place on that day
Couple days later, I convinced them to go to that place again. I told them that I will pay for their lunch. Once we get inside the place, it was completely different from what we see outside. It was clean and nice. They have awesome customer service.
I ordered Pad See Ew (I always order this when I go to Thai restaurant).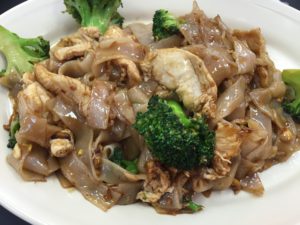 This place has the best Pad See Ew in Houston. I have gone to many Thai and other Asian places, but I had never eaten the fried flat rice noodle that as good as this one. It has rich flavor of the sweet soy sauce. This dish has similar taste to the Indonesian dish in Jakarta (Kwetiau Tek Tek).
I also tried the curry, it was OK (not the best).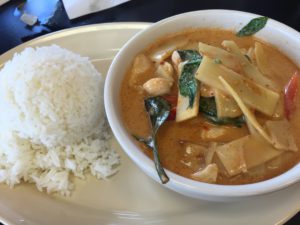 CHERUBSCORE: 9.0
Don't judge the book by it's cover.

This is the address of Nara Thai :
2111 Fannin St. Ste 109, Houston, TX 77002
Tips: Don't go here at night for your safety.