Texas is well-known for their barbecue. One of the thing that I would do when I travel around Texas is to try the most popular BBQ in the town.  There are 3 different kind of BBQ in Texas; Central, East, and West Texas style. Each style has their own unique characteristics. For Central Texas, they put a lot of the focus on the quality and the taste of the meat. I would recommend to eat the BBQ without the sauce to feel the rich taste of it. The most popular place to find the Central Texas BBQ is Lockhart, which is the capital of Central Texas BBQ. I have been to  Black's, Smitty's, and City market in Luling, Texas.
Recently, I heard that there is one place in Austin that have better quality of BBQ. I also saw the Anthony Bourdain No Reservation show about this place. So I gave it a try last weekend.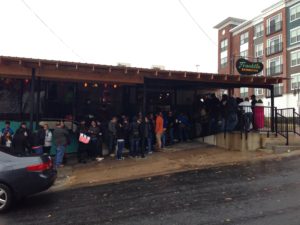 We went there about 9 AM in the morning to wait in the line. The place usually open around 11PM. The place has limited number of the BBQ, so make sure you come earlier, if you want to get the ribs. I have never seen the place like this before, people don't mind to wait that long to get a BBQ. How about on the weekdays? Same thing.
After waiting for 4 hours, finally we could order the BBQ. We ordered the sausage, pulled pork, pork ribs, beef ribs, and brisket.
How is it?
Sausage: Ok, can't really tell. Not a really good indicator.
pulled pork: Ok, soft and tender.
Pork ribs: Really good. tender,rich, and sweet.
Beef ribs and brisket: HEAVEN, It is really amazing. I have never seen the BBQ that really tender and moist like this before. The temperature when he cooked it was perfect. We can feel the rich flavor in the meats. This is possible because Franklin use wood-fire smoker and oaks which gives a strong flavor to the meat.
CHERUBSCORE: 9.8
Franklin Barbeque
Address: 900 E 11th St, Austin, TX 78702
Phone:(512) 653-1187