I heard about the rumor and news that the new ramen store will be opened in Westchase area since couple months ago. So yesterday my friends texted me to try their ramen on the second day of the opening. They got there around 6.45PM and started to wait in the line. I met them about 15 minutes later. The line was not too long, we still could line up inside the building. (It is really cold outside).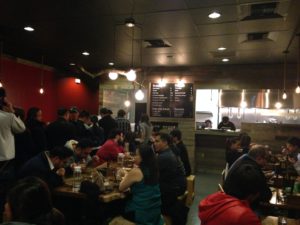 The wait time is really looooong. I saw many people just gave up and left. The line was moving 1 feet every 10 minutes. The problem was that they could not cook fast enough to keep up with the number of the customers. They also did not have enough people that work as the waiter. The cashier had to help cleaning and delivering the food to the table. We saw a lot of empty tables (almost half of the store), while we are standing and waiting to order the food at the cashier. The wait time on the line was 2 hours and 30 minutes.
We ordered Tonkotsu ramen noodles and few appetizers.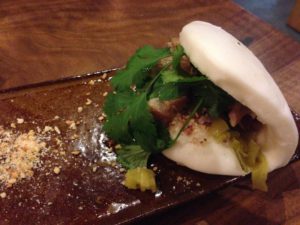 The one that I order called Gua Bao. It came to our table not long after we sat down. It has the crispy pork in it. So where is our ramen?
30 minutes have passed already…..
We were still waiting in our table without our ramens. They might put our order in the wrong order. A lot of people that ordered after us, got their food already. My comrades started to lose their will to fight. Our vision started to get blurry.
Oh well, Finally the ramen is here… (It is better to be good, after that long suffering).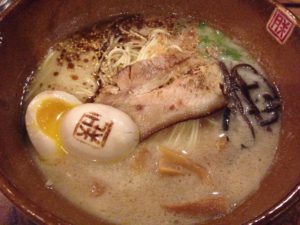 Let me break it up into several component of the ramen:
The broth/soup: tasted like water, no flavor (literally).
Egg: Tasted like normal egg, just half-cooked
Pork Slices: Soft and tender, but too salty
Noodle: Too hard and no flavor. They should cook it longer to make it softer and let the noodle absorb the flavor from the broth.
CHERUB SCORE: 6.5
I hope that they could improve the quality of their ramen and service. At the moment Tiger Den in Chinatown is still my first choice for ramen in Houston area.